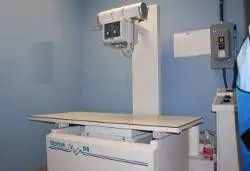 A digital technology for quick, precise and better results has been established in our hospital that reduces your pet's exposure to the harmful vet x-rays for the sake of its health.
In contrast with the traditional film pet x-ray the vet digital radiology also helps in reducing the dose of radiation going to your pet's body. With the reduced time and dosage of the harmful x-rays to your pet, you can ensure its health.
Digital x-rays only take a few minutes to do. Our radiology services will allow us to find out if your pet has any fractured, or broken bones. Taking x-rays can also help determine if your pets swallowed a foreign object.
---
Dogs, cats, small animals and their lovers from Greater Vancouver and the Lower Mainland are welcomed. Visit our Vancouver veterinary clinic or call us at 604-433-5500.
---