Our safety measures, professional vet surgeons and experienced staff members ensure your pet's health. Pre and post vet surgery care at Killarney makes sure that your pet recovers from his vet surgery. We are well equipped with all the latest equipments and gadgets that aid in vet surgery. Special care is given to track vital signs during the surgery and the pet is supervised constantly by our sophisticated machines.
Vet Surgery Procedures Offered at Killarney Animal Hospital: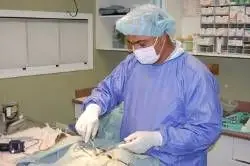 -Spay and Neuter
-Abscess Surgery
-Lumpectomy/Growth Removal
-Ophthalmic Surgery
-Oral Surgery
-Orthopedic Surgery
>Cruciate Surgeries
>Patellar Luxation
>Bone Plating
>Intra-Medullary Pinning
>Ligament Repair
Our clinic is equipped with a secure, sterilized surgical room and instruments to ensure a clean and sanitary vet surgery for your pet. We guarantee your pet will be comfortable while they stay here with us. Before each surgery our vet surgeons do a general physical exam, but to confirm your pet is safe to go under anesthesia a pre-anesthetic blood panel and urinalysis is recommended
---
---
Give us a call and we will be happy to assist you with any other questions regarding vet surgery or other vet services: (604) 433-5500. Proudly serving Greater Vancouver and the Lower Mainland.